CODEPINK erhält den Wilhelmine-von-Bayreuth-Preis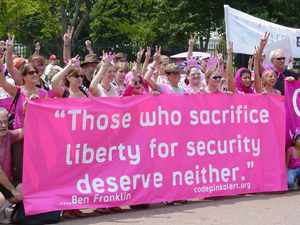 CODEPINK  – Women For Peace erhält am 15. April 2016 in Bayreuth den "Wilhelmine-von-Bayreuth-Preis für Toleranz und Humanität in kultureller Vielfalt" – allen Diffamierungen zum Trotz!
CODEPINK -WOMEN FOR PEACE ist eine international anerkannte US-amerikanische Friedens- und Menschenrechtsorganisation, an die schon zahlreiche Preise verliehen wurden, wie der renommierte Aachener Friedenspreis 2014.
Am 24. Februar 2016 bestätigten die Mitglieder des Bayreuther Stadtrates, dass CODEPINK den Wilhelmine-von-Bayreuth-Preis für Toleranz und Humanität in kultureller Vielfalt in einer öffentlichen Zeremonie am 15. April 2016 verliehen bekommt. Der Stadtrat hatte ca. zwei Jahre zuvor auf Empfehlung der Bayreuther Universität beschlossen, den Preis 2016 an CODEPINK zu verleihen. Im Juni 2015 gab die Stadt eine Presseerklärung heraus, in der die Preisverleihung angekündigt wurde.
Die für Mitte April 2016 geplante Verleihung des "Wilhelmine-von-Bayreuth-Preises für Toleranz und Humanität in kultureller Vielfalt" durch die Stadt Bayreuth an die US-Bürgerrechtsbewegung "Code Pink" war zuvor in die Kritik geraten.
In einer Mitteilung der Stadt Bayreuth vom 11. Februar 2016 hieß es, dass Oberbürgermeisterin Brigitte Merk-Erbe den Stadtrat, der die Auszeichnung auf Vorschlag der Universität Bayreuth im Juli 2014 beschlossen hatte, in der kommenden Woche nochmals mit der Thematik befassen wird. Die Oberbürgermeisterin, so hieß es, wird dem Gremium vorschlagen, von der Preisverleihung Abstand zu nehmen.
Ein Beitrag in der  Jerusalem Post / Benjamin Weinthal hatte eine Debatte in den deutschen Medien über die Verleihung durch Bayreuth an CODEPINK ausgelöst. Ein Mitarbeiter der JPost, Benjamin Weinthal,  "Research Fellow" der neokonservativen US-amerikanischen "Foundation for the Defense of Democracies" deren Führungsgremium den früheren CIA-Leiter James Woolsey zum Vorsitzenden hat, behauptete, die Mitbegründerin von CODEPINK, Medea Benjamin, habe an einer Konferenz im Iran 2014 teilgenommen. Weinthal warf CODEPINK darüber hinaus vor, das Existenzrecht Israels zu leugnen, außerdem unterstütze die Organisation die weltweite BDS-Bewegung.
Der Vorstand der Deutsch-Israelischen Parlamentariergruppe im Deutschen Bundestag, Volker Beck (Bündnis 90 / Die Grünen),  Gitta Connemann (CDU/CSU), Kerstin Griese (SPD) und Jan Korte (DIE LINKE) sahen sich veranlaßt,die Bayreuther Bürgermeisterin in einem Schreiben vom 19. 02. 2016 darauf hinzuweisen, dass das Signal, das durch eine Preisverleihung an CODEPINK von Bayreuth ausgehen würde, falsch wäre.
Nach Sichtung der von CODEPINK zur Verfügung gestellten Unterlagen und einer ausführlichen Diskussion in der Stadtratssitzung am 24. Februar hat eine Mehrheit des Stadtrats die Entscheidung bestätigt, den mit 10.000 Euro dotierten Bayreuther Preis 2016 in einer öffentlichen Feier am 15. April an CODEPINK Women for Peace zu verleihen.
Das Nahost-Forum-Bremen hat die Ereignisse um die Preisverleihung an CODEPINK zusammengestellt – ebenso hier Struggle in Bayreuth, Germany Over Award to CODEPINK