Stellungnahme von Jews for Palestinian Right of Return für Christoph Glanz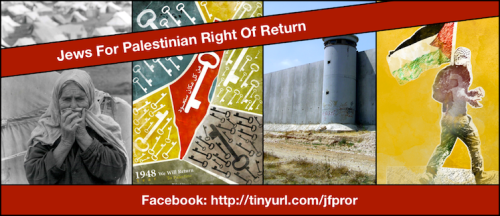 Wir stehen auf der Seite von Christoph Glanz, Aktivist für die Rechte der Palästinenser, gegen die zionistische Hexenjagd.
Am 10. Oktober 2016 veröffentlichte die Jerusalem Post unter der reißerischen Überschrift "'Antisemitischer' deutscher Lehrer täuschte vor, Jude zu sein, um seine anti-israelische Agenda zu stärken" einen Artikel des anti-palästinensischen Propagandisten Benjamin Weinthal. Das anvisierte Ziel ist Christoph Glanz- ein Aktivist, Lehrer, lebenslanger Antifaschist und – laut eigener Beschreibung – ehemaliger liberaler Zionist.
Sein angebliches Verbrechen besteht darin, sowohl als jüdischer als auch als nicht-jüdischer Unterstützer den Aufruf "Juden für das Rückkehrrecht der Palästinenser*innen" (JPPR, Jews for Palestinian Right of Return") unterschrieben zu haben.
Das ist mindestens das siebte Mal in 2016, dass Weinthal Glanz fälschlich des Antisemitismus beschuldigt und zeugt von einem Muster ähnlicher Verleumdungen, mit denen Weinthal bereits andere Unterstützer der palästinensischen Rechte attackiert hat.
In diesem Fall -wie eine einfache Anfrage hätte ergeben können- war Glanz´ doppelte Auflistung unter dem Aufruf ein unabsichtlicher Fehler unsererseits (der mittlerweile korrigiert wurde); er ist jetzt als einer der mehr als 700 anderen Unterstützer*innen aufgeführt.
Jedenfalls stellt sich die Frage was eigentlich an der Wahrnehmung des JPPR-Bündnisses, dass "die Zionisten seit mehr als einem Jahrhundert das Ziel verfolgt haben, einen 'Jüdischen Staat' durch die Entfernung der eingeborenen palästinensischen Bevölkerung zu erzielen" antisemitisch sei?
Oder dass das "zionistische Regime offiziell die Nakba verleugnet, was das ethische Äquivalent der Holocaust-Leugnung darstellt"?
Oder dass palästinensische Flüchtlinge das unveräußerliche Recht auf Rückkehr haben?
Ihre Leser sind dazu aufgefordert, hier  das vollständige Dokument zu lesen und selbst zu entscheiden.
Die Tatsache ist, dass Anti-Zionismus nicht antisemitisch ist; Anti-Zionismus ist antirassistisch, antikolonialistisch und gegen die Apartheid. Und Weinthals falsche Behauptungen spiegeln die zunehmend verzweifelte Hexenjagd, die darauf abzielt, die weltweit anwachsende Unterstützung für die BDS-Bewegung (Boykott, Kapitalabzug, Sanktionen) zu stoppen- viele dieser Unterstützer sind jüdisch.
Christoph Glanz wird sich nicht durch solche Vorwürfe zum Schweigen bringen lassen– und wir ebenso wenig.
Originaltext:
We Stand With Palestinian Rights Activist Christoph Glanz Against Zionist Witch-Hunt
Jews for Palestinian Right of Return (JfPRoR)