Israeli Apartheid Week (IAW) 2021
IAW 2021: 14. – 21. März
Rassismus, Diskriminierung, Fremdenfeindlichkeit und Ungleichheit nehmen auf der ganzen Welt weiter zu. In den letzten Monaten haben wir gesehen, wie Menschen im Globalen Süden und People of Color, politische Gefangene, wohnungslose Menschen, Migrant*innen und Geflüchtete, neben vielen anderen unter der Geißel COVID19, die ihre Verletzlichkeit weiter verschlimmert hat, gelitten haben.
Wir haben auch gesehen, wie Millionen von Menschen auf der ganzen Welt auf die Straße gegangen sind, um gegen strukturellen Rassismus, patriarchale Gewalt, Klima-Ungerechtigkeit, neoliberale Austerität und wirtschaftliche Ungleichheit zu protestieren, neben anderen Unterdrückungen, die uns weiterhin ersticken. Diese Proteste für lang verweigerte Gerechtigkeit haben uns dazu inspiriert, in einer vereinten globalen Front gegen Rassismus und Unterdrückung uns weiterhin gegen Ungerechtigkeit zu wehren, weiterhin von Freiheit zu träumen und weiterhin auf unsere Rechte zu pochen.
Jetzt, mehr als je zuvor, brauchen wir Euch, brauchen wir einander. Wir brauchen all unsere Stimmen um gemeinsam auf der ganzen Welt Rassismus, Kolonialismus und Apartheid zu beenden.
Palästina bleibt ein zentrales Testfeld für globale Repression. Das israelische Apartheidregime testet seine militaristischen und rassistischen Ideologien, Überwachungsinstrumente und Waffen der Unterdrückung und ethnischen Vorherrschaft an der palästinensischen Gesellschaft, um sie als "felderprobt" in die Welt zu exportieren Dieses Instrumentarium verschärft letztendlich die militarisierte und rassistische Unterdrückung in vielen Ländern der Welt, von der Festung Europa bis zu den USA, von Indien bis Myanmar, von Brasilien und Honduras bis zum Südsudan und Ruanda und weit darüber hinaus.
Die IAW wurde in den letzten 17 Jahren weltweit organisiert, um gegen einige dieser Ungerechtigkeiten zu protestieren und sich für palästinensische Freiheit, Gerechtigkeit und Gleichheit im Rahmen des Kampfes um unsere unteilbare Gerechtigkeit einzusetzen. Laßt uns weiterhin immer mächtigere Netzwerke der Hoffnung und der gegenseitigen, intersektionellen Solidarität knüpfen. Vereint sind wir nicht mehr aufzuhalten.
Angela Davis Call to Action for IAW 2021 #UnitedAgainstRacism:
6 Online-Veranstaltungen:
DIENSTAG, 16. MÄRZ 2021 um 19:00 Uhr
IAW 2021: Understanding Israeli Apartheid – REGISTER: http://bit.ly/IAWApartheid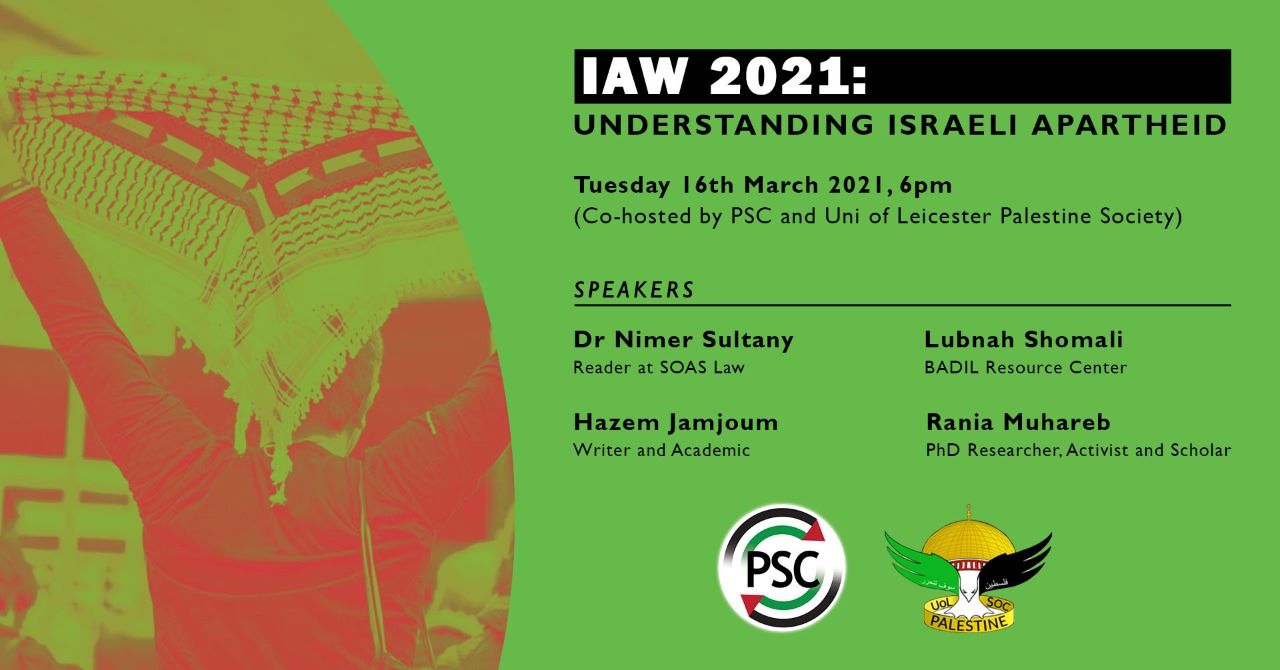 ---
MITTWOCH, 17. MÄRZ 2021 um 20:00 Uhr
Accusations and Anti-Semitism: How should the Left respond?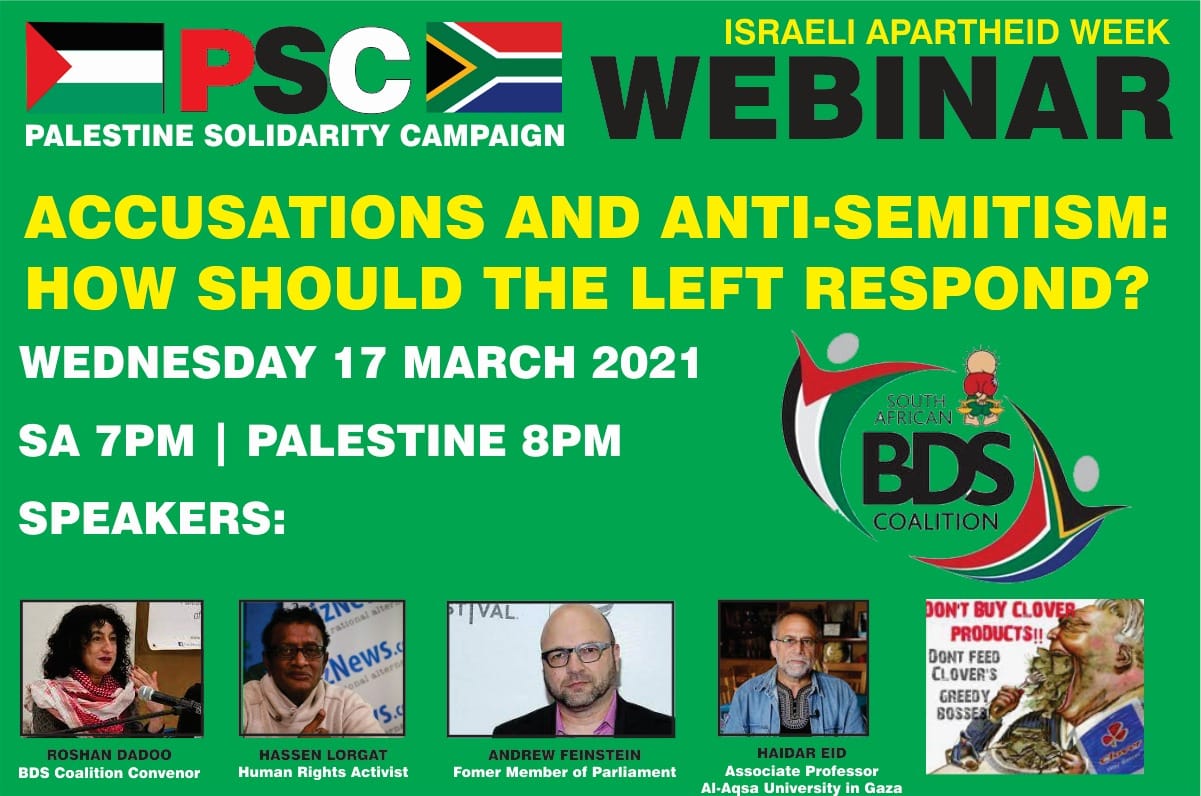 ---
DONNERSTAG, 18. MÄRZ 2021 um 19:00 Uhr
IAW 2021: United Against Racism – Resisting Israeli Apartheid – REGISTER: http://bit.ly/IAWResist
---
SAMSTAG, 20. MÄRZ 2021 um 15:30 Uhr
"Israeli Apartheid Week" in München: Die 2. Veranstaltung der BT3P am 20.3.2021
Apartheid durch den Staat Israel – Das Wegschauen der deutschen Politik
Datum: Samstag, den 20. März 2021
Uhrzeit: 15:30 bis 17:30
Ort: Gasteig, Rosenheimer Str. 5, 81667 München
---
SONNTAG, 21. MÄRZ 2021 um 16:00 Uhr
Global Rally Israeli Apartheid Week – Online via Facebook Live und ZOOM bit.ly/IAWRally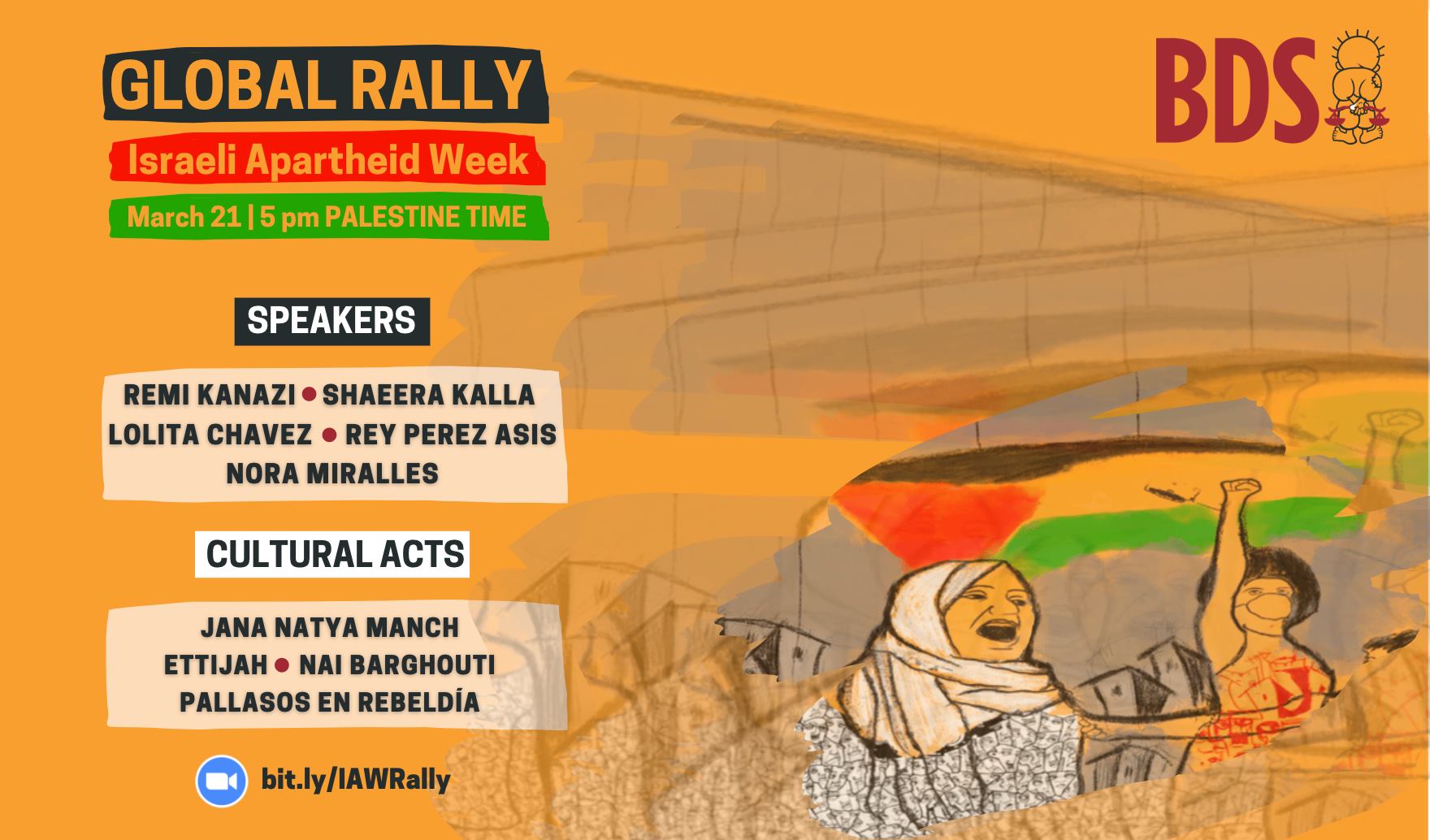 SONNTAG, 21. MÄRZ 2021 um 18:00 UTC+01
Is Israel an Apartheid State? If So, What Must Be Done? – REGISTER HERE: http://bit.ly/3r5IOdK

---
MONTAG, 22. MÄRZ 2021 um 19:30 Uhr